My favourite thing about me, is that sometimes…. I totally suck.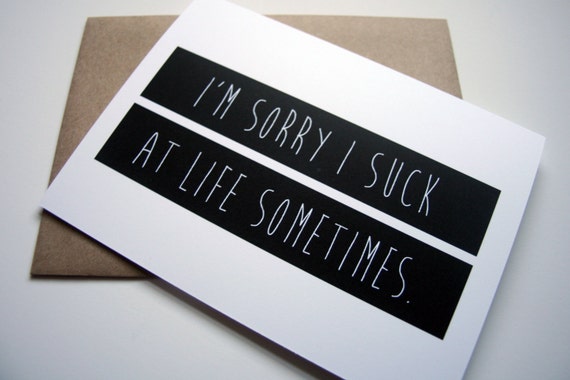 image from https://img1.etsystatic.com/055/0/10087758/il_570xN.729430581_b97k.jpg
Our last post was A YEAR AGO, and I promised we weren't NOT going to write anymore?
Sheesh.
Can I just tell you, living with your parents when you're married, in your 30s, and have kids IS HARD. Too many "cooks in the kitchen" (though my mother will tell you there weren't enough literally in the kitchen…).
SINCE LAST OCTOBER.
We bought a house! We moved! We're on our own! We're….living in a sea of total chaos and boxes and insanity!
But my Mister is SO SO SO happy to be in our old town in our brand-new house. And our kids? Holy hannah, I didn't know they weren't blissfully happy until I saw when they were. THEY. LOVE. IT. HERE.
I'm…struggling a bit. But if you've read any of our other posts, that won't surprise you: I am the crazy one!
So much has happened in the last year, in the last COUPLE of years. Some of it good, some of it great, some of it not so great. But we're still here, and still kicking! And we will try to get back to this blog – it was so helpful to us at such a critical time and we really really appreciate the love and support (and nasty comments – yes, we get those too!) from you all. I can't believe we STILL get hits and likes on Facebook and whatever, and we haven't done anything with this site in a year.
You're all amazing.
So, enough talking about nothing! Let's get to it, shall we??
STAY TUNED….